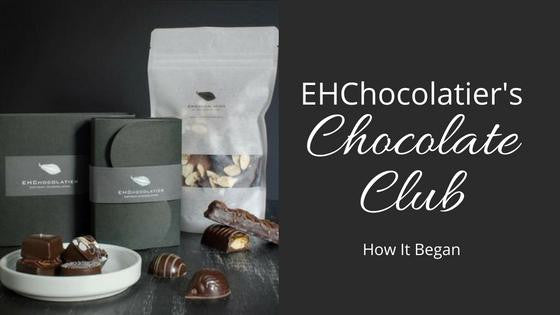 The Chocolate Club was the very first product of EHChocolatier when we started in 2009. It was our first foray into turning a hobby into an actual business. We had known each other for 10 years, had cooked together, made holiday treats, and had become good friends. To test the waters, we created the Chocolate Club. It was a 9-month process to see whether people actually liked what we made, learn what value they placed on it, whether we would still like what we did after doing it for 9 months, and most importantly, to see whether we could remain good friends.
It was an ideal situation. We only invited our friends and family to join (we knew they already loved us), got to practice our craft, worked out basic systems of running an online business, and raised enough money to have our little nut at the end of the period. We figured out recipes, flavors, techniques, packaging, shipping, warm weather protection, kitchen flow, website design, e-commerce, and reluctantly, bow tying.
The ending isn't much of a surprise at this point; we had a great time and found that we're very different people, but very yin and yang. Between the two of us, we made a very strong team. We joke routinely, "Two minds, one brain…"  We also discovered that we had a pretty cool chocolate business as well so we were off to the races. Every fall when we start up the Chocolate Club season, it brings a great deal of nostalgia and appreciation of how far we've come.