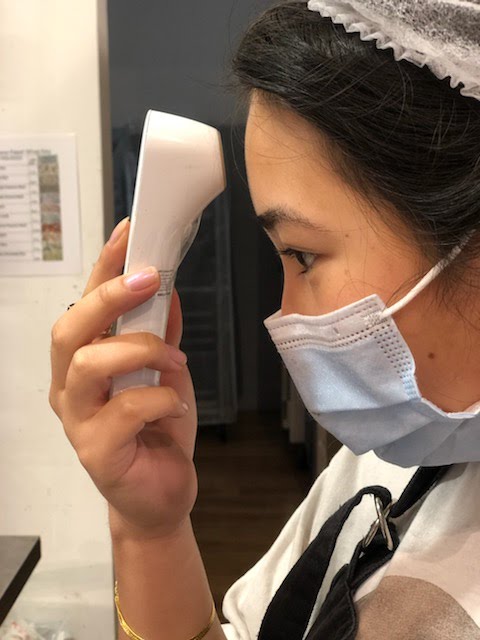 The health of our customers and staff is our #1 priority. During these challenging times, we want to continue to provide our customers with a safe, chocolate experience they'll never forget. While we already implement all food safety requirements, we felt it was important to take extra steps to ensure the safety of everyone at EHChocolatier from the retail area to our chocolate-filled kitchen.
WE PRACTICE SOCIAL DISTANCING. Only one customer is allowed in the retail area at a time. We created pink flowers along the sidewalk in front of our shop measured 6 feet apart where customers will wait to enter. If the line gets long, we promise to make it worth the wait! 
EVERYONE IS REQUIRED TO WEAR A MASK. While we wish we could see everyone's smiling faces, we are requiring all customers and staff to wear a mask in order to enter the retail area. This is very important to us to protect both our customers and staff. We are also checking temperatures when our staff begins their shift and confirm they are not exhibiting symptoms of COVID-19. 
WE IMPLEMENTED STRICT HYGIENE PROTOCOLS. Hand sanitizer will be made available at the entrance/exit of the retail area for our customers and staff. We use safehandles and sanitize all high-touch areas in between customers. We are also requiring our staff to wash their hands frequently, at least every 30 minutes and much more often in the kitchen in addition to food safety requirements. 
WE OFFER CURBSIDE PICKUP AND TRUNK DELIVERY. If you prefer to not enter the store, we offer both curbside pickup and trunk delivery. Place your order online, choose the PICKUP option at checkout and we will email you when your order is ready. Simply call 617.284.6096 when you arrive and we will deliver your chocolates to you. 
OUR EMAILS ANNOUNCE WHAT'S IN THE SHOP. If you aren't comfortable browsing inside our shop, subscribe to our email updates to learn about what's new and seasonal. We are taking the time to share information about our products that we would share with you if you visited us in person. Then, you can place your order online and either have it shipped or prepared for pick up. 
WE ARE AVAILABLE IF YOU HAVE ANY QUESTION OR CONCERNS. Just ask! Call, email, or stop by to speak with our staff. We are happy to talk with you about our safety protocols and make product recommendations.
We are grateful for your support, and hope to see you at the shop soon!