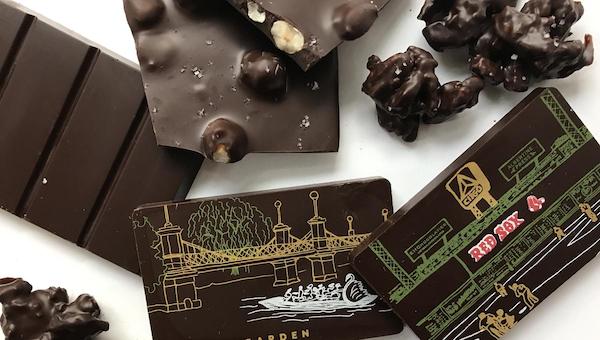 Finding beautiful, sophisticated gifts for vegan friends and family can be challenging to a non-vegan, particularly if they're new to shopping for vegan gifts. While a bouquet of tofu or nutritional yeast sounds great in theory, it's rather messy in presentation. Thankfully, one of the most timeless edible gifts —chocolate—makes an ideal present. While it's true that some chocolate (such as the aptly-named milk chocolate) do use omnivore-friendly ingredients, rich, dark chocolate isn't just delicious - it's also dairy-free and perfect for vegans. 
Tasting Notes and Origin Bars
A variety of factors go into the creation of beverages like wine and beer - the soil where the ingredients are grown, the climate, and even how quickly those ingredients are processed. Wine tasting and craft beer have captured attention for their subtle differences in notes and flavor, making enjoying them as much about the experience and the mystery as the glass contents themselves. Chocolate is just as rich and complex a gustatory journey, and stopping to smell the roses—or rather, cocoa nibs—can be an incredibly rewarding experience. Dark chocolate tasting bars and single-origin dark chocolate offer vegan gift recipients more than a delightful snack. They also invite the recipient on a tasting journey filled with subtle notes, all with no awkward lingering in a vineyard gift shop afterwards.
Fruit, Nuts, and Dark Chocolate
While smooth, silky dark chocolate is more than capable of captivating the senses on its own, adding sweet dried fruits and indulgent nuts elevate the taste even higher. In addition to contributing natural sweetness to be savored, these popular vegan chocolate add-ins also change the texture of each bite. This textural experience encourages the recipient to savor the crunch, chew, and melt as they work their way through your gift. (Theoretically savor, anyway - it's not uncommon to make an entire delicious box vanish in the space of a few Netflix episodes.)
A Grand Presentation
While searching for vegan chocolate gifts used to offer a small handful of options years ago, nothing could be further from the truth now - flavorless carob has been relegated back to the 1980s where it belongs. Large multi-box towers, elegantly-decorated artisan chocolates, and beautifully-wrapped petite gifts to include in larger assortments are all readily available - and much more tasty. Rather than trying to find any vegan chocolate gift options, givers are instead presented with a catalog as rich as the chocolate itself to peruse. 
Delicious, complex, and infused with meaningful depth, a vegan chocolate gift is the best way to reflect your relationship with someone special. No matter which variety of dark chocolate you choose, it will be a far better surprise than the aforementioned tofuquet.