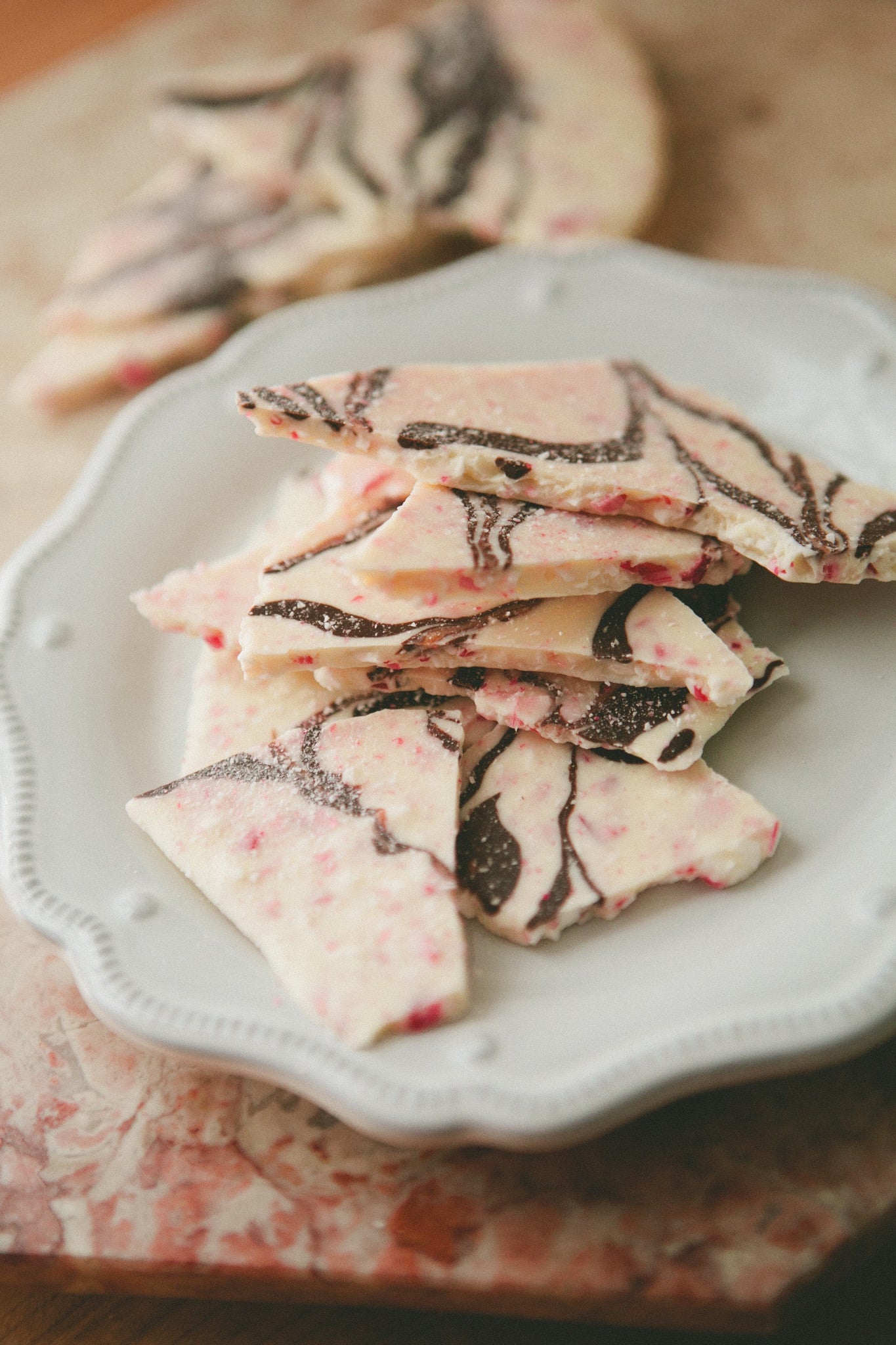 This holiday classic is a favorite in the shop. It's smooth and minty with a bit of a crunch, the perfect holiday treat. During the holiday season, we usually make our bark once or twice a week - and it is all hands on deck! A lot of work goes into it and we have to work very fast, or our bark won't be as pretty on your table. We have a race against the clock!

First we have to sift our bits of peppermint candy. We get off all the sparkly dust and break up any large chunks, so the bark will be nice and even. We save that dust for later! Meanwhile, we are tempering our delicious (and pretty!) white chocolate. Once the peppermint is ready, we add it to the tempered chocolate for a nice crunch. We want our bark to be as fun to eat as possible!

Next, everyone in the shop gets a tray, a knife, and an offset spatula. One person mans the tempered white chocolate, pouring even amounts on four different trays - we make a lot at once so we always have it in stock for you! Now it is all about speed. We have to work fast to smooth out the chocolate in a thin layer or it will set up and be tasty, but not quite as pretty as you deserve! Once the chocolate is spread out, the trays have to be banged on the table to remove any air bubbles and fully even everything out. The shop gets pretty noisy on Peppermint Bark day.

Meanwhile, the chocolate pourer (usually confectioner extraordinaire Ariel) has been tempering rich dark chocolate. She adds swirls to the bright white chocolate, making it extra tasty and extra pleasing to the eye. We each grab a knife, making sure the dark chocolate reaches the edges of the tray, so there is some in each delectable bite!

Last, each tray gets a gentle sifting of that peppermint dust we saved from earlier. This gives the bark brighter flavor and a sparkly finish. It is the perfect treat for a snowy day, an excellent hostess gift, and a sweet spot on your holiday table. Perfect for special occasions or everyday!