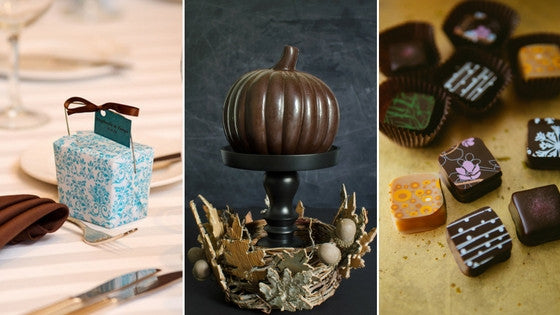 Thanksgiving is the perfect time of year to share our special treats with your loved ones. We've been working hard in our kitchen to make your holidays a bit more special. Consider inviting us over for Thanksgiving!
Our chocolates make a perfect place card. We have different size boxes and bags, depending on how many treats you'd like to include for your guests. Try out bags of tart cherry bites, maple pecan bites, or rochers - just add a tag with each person's name to make your table a bit more elegant (and delicious)!

Our 11.25 oz, 70% chocolate pumpkin makes a lovely centerpiece. Dusted on top with fall colors made of cocoa butter, our pumpkin will look festive and elegant - and will be delicious after dinner!

Our holiday bonbons make the perfect after dinner treat with coffee. A little something sweet to end the meal (when you've already stuffed yourself!) with different flavors, like pomegranate oolong, ceylon cinnamon, spiced eggnog, and palet d'or, to satisfy everyone's palate!

If you're not cooking, our Peppermint Bark, Brown Butter Toffee, and Pecan Cluster Gift boxes make the perfect hostess gift! Make your holiday a little sweeter with EHChocolatier. Order online or visit us in the store!